Trade Events Search, Click Here!

See our TPP BLOG for the Latest Updates on Trans-Pacific Partnership (TPP) Agreement
See Press Release summarizing the Nat'l DEC position on TPP and our readiness to work with the new Administration as it crafts new trade agreements.

See White House Memo (Jan 23, 2017) on Trans-Pacific Partnership (TPP) Agreement.
_____________________________________________________________
Op-Ed
Post Truth Politics and Open Global Trade an Op-Ed by Kenneth L. Wengrod, Chair of Legislative Regulatory Committee and TPP Work Group.
_____________________________________________________________
DECSC-Sponsored Events
FEBRUARY 2017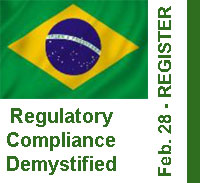 BRAZIL REGULATORY COMPLIANCE DEMYSTIFIED

February 28, 2017 | 9:00am – 11:00am | LA Area Chamber of Commerce

- Interested in selling your product to 200 million new potential customers?

- Concerned the complexities of Brazil's regulatory environment will hinder your product or technology from entering the world's 9th-largest economy?

Invitation: Join the U.S. Commercial Service for an event featuring Brazilian accredited certification body Master Compliance (MC) as they demystify the intricacies of regulatory compliance in Brazil. We invite regulatory compliance managers, product development engineers, marketing and sales executives, and others interested.

Industries: Telecommunication, LED lamps, household appliances, IoT devices, UAVs/drones and HVAC. Any company with a product utilizing RFID technology, remote controls, and Bluetooth cannot miss this session.

One-on-One: Please indicate an interest and we will schedule an individualized consultation with MC's experts from Feb 28 to Mar 3.

About Company: MC is a Brazilian accredited certification body with over ten years' experience working with international companies to achieve compliance with the regulatory requirements of Brazil's Anatel and Inmetro.

Cost per person: $40

For questions, contact any of the following individuals:

Eric Olson
U.S. Commercial Service
West LA, CA
Tel: 213.200.7172
Eric.Olson@trade.gov

To Register, Click Here!

_____________________________________________________________
MARCH 2017

ASIA PACIFIC BUSINESS OUTLOOK (APBO) CONFERENCE
THE LA HOTEL Downtown, March 27 & 28, 2017, Los Angeles

Taking L.A. to the World: Growing Your Business Through Exports

The U.S. Commercial Service and the USC Marshall School of Business have been working together on the Asia Pacific Business Outlook (APBO) since 1988 to help exporters and investors expand their trade and investment in the Asia/Pacific region.

In the aftermath of the U.S. elections, new uncertainties in trade and foreign policies will have an impact on Asia/Pacific business environments. In the upcoming months, as the administration defines its policies, businesses will be able to learn first-hand from the 50 business experts at APBO so they can strategically maneuver their organizations to meet the new challenges and opportunities in the constantly changing economies of Asia.

APBO is a comprehensive networking and learning experience designed to provide business leaders with:

- Industry and government contacts
- Up-to-date information about business environments in 17 economie
- Conference attracts over 300 American business executives
- Private one-on-one appointments with Senior Commercial Officers from American Embassies and Consulates in 17 economies.

Countries Available for One-on-Ones Appointments

Australia | Cambodia | China | Hong Kong | India | Indonesia | Japan

Korea | Malaysia | Mexico | Myanmar (Burma) | New Zealand

Philippines | Singapore | Taiwan | Thailand | Vietnam

*US Commercial Service Referral Code: USCS2017
(Please be sure to submit this code when registering.)

APBO has sold out in recent years. Space is limited, so sign up today!

Comments from previous participants:

"APBO far exceeded my expectations. The value of the conference is unsurpassed. I secured more valuable contacts in two days at APBO than I could have in years any other way."

"This event is the most educational and well organized event I have attended. As a small business it is nice to know that there is help dealing with such a big world."

"I can't imagine a better collective of international business experts available in a concise yet thorough conference. A definite 'must' for companies seeking to do business abroad."

For questions, contact any of the following individuals:

Eric Olson
U.S. Commercial Service
West LA, CA
Tel: 213.200.7172
Eric.Olson@trade.gov

Erica Ramirez 
U.S. Commercial Service
Irvine, CA
Tel: 909-208-4613
Erica.Ramirez@trade.gov

To Register, Click Here!

_____________________________________________________________